Chasing Baseballs and Dreams with Coach Ray Wright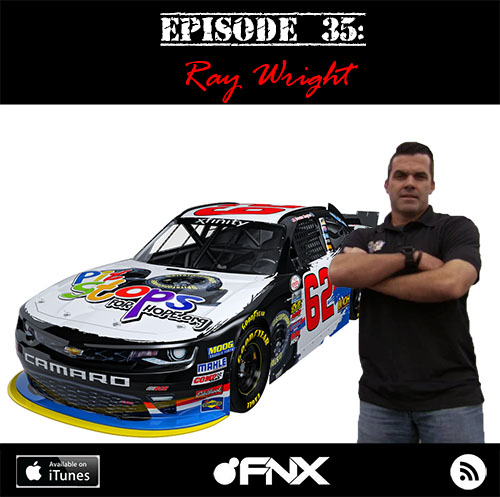 It's our first episode of Season 3 of the show, and we're kicking it off BIG w/former LSU Baseball Standout, Strength Coach for Richard Childress Racing, and 2016 Comcast Community Champion of the Year Finalist–Ray Wright.
Talking to Ray was as entertaining as it was educational, and I am so appreciative of the time he gave us to talk about:
Making one of the greatest catches in College World Series history as part of the Champion LSU Tigers.
What it is like to be part of NASCAR Sprint Cup Pit Crew. Ray is not only the Strength Coach for RCR, he is also the Rear Tire Carrier on the 27 Menard's Chevy (among others). His stories of how quickly these precision stops are made really show what a physically demanding sport this is. We will also talk about a few of the drills that Coach Wright puts his athletes through to improve their skills.
How he and his team over at Pit Stops for Hope have helped to provide over 700,000 meals for the Second Harvest Food Bank of NC. Not content with just providing meals, Pit Stops for Hope also helps supply teachers with the items most needed in their classrooms. The passion that Ray has for his work is clear, and there is no doubt that they are impacting lives on a HUGE level. (Check out this awesome video about Ray's journey with Pit Stops for Hope: https://youtu.be/9vaD5xM8e94)
Become a Pit Stops for Hope Patreon and WIN a $25 iTunes Gift Card!
Go to http://www.pitstopsforhope.org/donate to become a Pit Stops for Hope Patreon, post a screenshot of your confirmation message on our FB post, and you'll be entered in the drawing for a $25 iTunes Gift Card
Plus, Shawn answers listener questions on diet, exercise, and proper timing of supplements.
This is a CANT MISS episode!
Thanks, again, to Ray Wright, for coming on and sharing such wonderful content with us!!