As with so many other facets of life these days, the way we shop for our food is changing.  We have grown wiser as a population, and, as a result, demand that retailers stock higher quality products. Also, as we shift away from the mass-produced poisons pushed by "big pharma," natural remedies are once again gaining favor as treatments for our maladies.
In order to gain a better understanding of how retailers are adapting to this trend towards healthier living, I recently paid a visit to Chamberlin's Natural Foods Markets' new "flagship" store near downtown Orlando.
Good Day Sunshine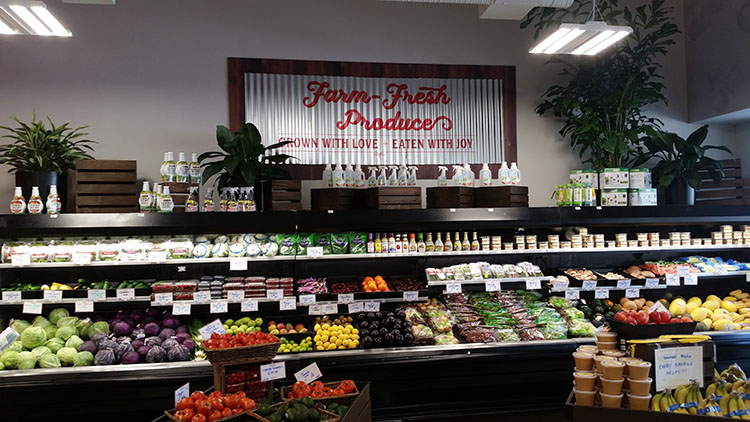 Immediately, I recognize that this store is a different animal altogether–it's brightly lit with natural lighting supplemented by LEDs for detail. The effect is amazingly warming and very much added to the feeling of shopping in an outdoors market. (Which it is not…it's indoors).
Store Manager Rhonda Rambo explained the layout and design as a way to "help shoppers feel as though they really are shopping in an open-air market."
Also adding to the natural ambiance is an abundance of locally-sourced, organic fruits and vegetables in all shapes, sizes, and colors.
"[P]eople want a bigger selection of foods from the local area these days." says Rambo, of the cornucopia of vibrant seasonal produce.
(If looking at all of the savory fruitage gets your mouth watering–don't worry, Chamberlin's has a fantastic little juice bar which uses that same organic yield to make some phenomenally delicious shakes and smoothies. Two words here: man-go).
As one would expect, there is a very healthy supply of (see what I did there?!?) unique ingredients such as Paleo, Diabetic, and Gluten-free around the store, catering to an ever-expanding "specialty diet" clientele.
Sometihing for What Ails Me
Of course, another change we are seeing in the health and wellness habits of this country is a shift towards natural medicines. This means that retailers are beginning to carry more of these non-traditional (or rather, non-pharmaceutical) remedies on store shelves.
Chamberlin's, takes this shift seriously, as about 1/3 of their new store is devoted to vitamins, minerals, and natural supplements of every shape and size. From cold/flu treatments to children's and even pet health, there is a formulation for any ailment or condition one can think of.
(If you're visiting Chamberlin's, there's no reason to be intimidated at the endless rows of supplements, as all of their staff undergoes rigorous certification about what these products can do. In fact, I tried to stump Sports Supplement Specialist Andria Garcia with my questions, and was unable to do so. She had an answer for everything I threw at her).
Cash and Carry
Obviously, there is still a large part of the country who continue to shop the Superstore America Food Marts, but it is also very clear that a solid minority are taking charge of what they ingest and demanding more from grocery retailers.
Which, too, was evident on my visit to Chamberlin's; Though they've not yet had a "grand opening," on the day I stopped in the store was chock-a-block of shoppers grabbing everything from exotic herbal teas to calming, mineral-infused water.
While we continue to shift our dietary needs and beliefs as a nation, it is very comforting to know that some retailers are not only keeping pace with the trend, but are anticipating and serving the desires of a healthier population.
(And in the case of Chamberlin's–doing so with a passion palpable in the air of their markets).
Be sure to check out Chamberlin's website for all the details on their beaufiful new store!